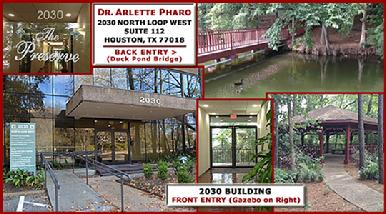 Dr. Arlette Pharo 2015 New Office: 2030 N. Loop W., Ste. 112 Houston, Tx 77018 Call for Directions or Download Map on Contact Page. (2030 Address is "NOT" Visible from 610 Freeway)
♦ ♦ ♦ Awaken Your Health ♦ ♦ ♦
_____________________________________ 2015 _____________________________________

Dr. Arlette Pharo Moved to Beautiful Office
Located in "THE PRESERVE OFFICE PARK"
off 610 N. Loop Between Ella Blvd. & TC Jester East
2030 N. Loop W., Suite 112

Houston, Texas 77018
Call: 713-802-1177
{Call for Directions, Use Our Contact Page MapQuest or
CLICK MAP Link at Bottom of Page for PDF Map}
_________________

♦
♦
♦
_________
________________________________
♥
_______________________________
Dr. Arlette Pharo, D.O. founder of The Healing Arts Medical Center, and the AwakenHealth Medical Center. Dr. Pharo is a licensed physician in the State of Texas and has been in private practice in Houston for over 25 years. Dr. Arlette Pharo specializes in the blend of Conventional & Alternative Medicine for Awakening Your Health!
♦
♦
♦
"Healing is more than the Treatment of Symptoms"
DR. ARLETTE PHARO, D.O.
provides patients with an opportunity to
"AwakenHealth"
through a large variety of healing modalities which include aspects of Conventional Medical Treatments, Alternative Medicine and a Holistic Medical Approach to healing and maintaining wellness throughout life.
Dr. Pharo is committed to the exploration of the underlying cause(s) of disease rather than just treating the presenting symptoms or surface condition. This approach emphasizes the unique aspect of each individual's health needs through the development of personalized "AwakenHealth Programs".
Dr. Pharo's "AwakenHealth Programs" are designed to empower the individual's Awakened Health on many levels through Integrative Medicine, the blending of Conventional and Alternative Medicine.
Dr. Pharo offers personalized "AwakenHealth
Appointments" which include medical history,
comprehensive evaluations, diagnostics and
professional assessments for each individual.
♦ ♦ ♦
---
---
"Dr. Pharo believes part of the empowerment for
healing is nourished through patient education
and knowledgeable participation."

Have you ever searched for answers to your medical questions or definitions to certain medical terms and just wished you could find a licensed physician who could give you straight, credible and understandable information?

If you are searching for anything like the search word samples listed below, you have now found the very special physician who understands your search and has spent over 25 years in private practice finding answers! Follow the links provided at the bottom of this page to discover how Dr. Pharo can provide answers and help you Awaken Your Health!

---
DR. PHARO Can Help You If You Are Searching For How To Awaken Your Health.

HAVE YOU SEARCHED THESE CATAGORIES:
Conventional Medicine; Integrative Medicine; Alternative Medicine; Holistic Medicine; Functional Medicine; Natural Hormone Replacement Therapy; Bioidentical Hormones; BHRT; HRT; Menopause; Andropause; Compounding Pharmacies; Thyroid Disease; Adrenal Fatigue; Osteoporosis; Candida; Irritable Bowel Syndrome; Detoxification; Chelation Therapy; Heavy Metal Toxicity; Mercury Toxicity; Intravenous Infusions; Hydrogen Peroxide IVs; Brown Protocol; Osteopathic Manipulation; Thermography; Acupuncture; Natural Health; Calories; Diet; Nutritional Assessment; Healthy Aging; Immunine System Support; Heart Health; Men's Health; Women's Health; Healthy Living and How to Blend Conventional & Alternative Medicine
!
Dr. Pharo has experience in all of these catagories and more during her 25 years in Private Practice Family Medicine and Founder of both The Healing Arts Medical Center & AwakenHealth Medical Center.

If You Are Searching For A Doctor You Can Trust With Knowledge & Experience, then Call Dr. Arlette Pharo's Office For Your New Patient Appointment Today: 713-802-1177

---
" NEW PATIENTS are Priority in Dr. Pharo's Office!
We Strive to Meet Patients Needs & Limit Wait Times!"
♦
♦
♦
If you are looking for a licensed physician for your entire family that listens, spends time with you, works with you to address your health needs and offers a holistic integrative approach to Awaken Your Health, you are looking for Dr. Arlette Pharo, D.O.
Call 713-802-1177 in Houston, Texas for More Information and to Schedule Your "AwakenHealth Appointment" & "New Patient Consultation"
with Dr. Arlette Pharo, D.O.

We strive to schedule NEW PATIENTS within the quickest time available! It is a priority in Dr. Pharo's Office Policy to always leave room in her schedule each week for NEW PATIENT APPOINTMENTS and Emergencies!
We are looking forward to your call.
Surround yourself with those who will support your dreams and want you to be all that you can be.



Put yourself at the top of your "To Do List"!



Dr. Arlette Pharo, D.O.
♥
---
________________________________
♥
_______________________________
Dr. Pharo's "AwakenHealth Programs"
Personalized and Integrative Approach for:


---

WOMEN'S HEALTH

Wellness Exams, PMS, Menopause, Hormones
(including

Bioidentical Hormone Replacement Therapy

)

MEN'S HEALTH

Wellness Exams, Prostate Health, Andropause

NUTRITION

Assessment, Supplements, Diet & Nutritional Plans

HEALTHY AGING

Diagnostics, Personalized Programs for Age & Body Type

HEALTHY HEART

Men & Women Programs, Nutrition

,

IV Chelation Therapy

INFUSION THERAPIES

Customized Programs for Health & Healing
IV Therapies & Protocols for

Immune System Boost,


Enhanced Recovery from Illness, Surgery & Dental Work,


Vitamin Therapies,

Dietary Support, Nutrition, Detoxification


and much more for


"Treating The Unique Individual,
Not Just Symptoms."
________________________________
♥
_______________________________
"...there in the sunshine are my highest aspirations...
I can look up and see their beauty, believe in them,
and try to
follow where they lead."
_Louisa May Alcott
________________________
♥
_______________________

©
COPYRIGHT NOTICE:
Original text content on this awakenhealth website is ©2009 -

©2015

by Dr. Arlette Pharo, D.O. _ all Rights Reserved. Original Art, AwakenHealth Logos, Custom Graphics and Original Photos created by C. Michel Feray on this Website are ©2009 -

©2015

by C. Michel Feray _ all Rights Reserved. This copyright work is for Viewing Display use ONLY as part of the awakenhealth.net and awakenhealth.com websites. Dr. Arlette Pharo, D.O. and C. Michel Feray maintain all copyright ownership and all rights for reproduction and license usage which means any form of use or type of reproduction, publication, sales, internet postings, or any additional use of these designated copyright works require written license usage contracts which must be provided, approved and signed by the copyright owner. Any acts leading to copyright infringement will result in Legal Actions and Fines.
Dr. Pharo is requesting your support and awareness of the legal notice posted above to help prevent copyright infringement of any artist's works. Please Do NOT download or use any art or content from this website without explicit written permission. To obtain usage rights please call Dr. Pharo's office: 713-802-1177 -Thank You-